Most Popular Wedding Dates for 2024
Experts Say These Are the Most Popular Wedding Dates for 2024
If you're planning to tie the knot in the next year, here's what to know about the competition around your big day.
After you've said "yes" to the ultimate question, locking in a wedding date is one of the first decisions you'll make during your wedding-planning journey. It's a big decision: In addition to being a date you'll commemorate for years to come, the day you choose impacts the rest of the planning process to come, including which vendors you can hire and the color palette you select for the big day. There are many different factors that can help influence your date choice, such as the availability of your dream venue or meaningful dates in your relationship, but it's important to weigh your options before signing on the dotted line.
Though it's a well-known fact that Saturdays from May to October (otherwise known as "wedding season") tend to be the most sought-after, there are plenty of other popular wedding dates for 2024. To help understand which days will likely have the most competition, we asked two expert wedding planners to share their predictions for the most popular wedding dates this coming year.
Laurie Arons is the founder of Laurie Arons Special Events, a full-service wedding and event planning company in San Francisco that was established in 1994.
Mala Bakshi is the CEO of Events by Mala, which is a wedding and event planning firm that has offices in New York, Miami, and Newport Beach but orchestrates events around the world. She has 12 years of planning experience.
Here, we're sharing the most popular wedding dates for 2024 as well as a handful of days our experts say you might want to avoid.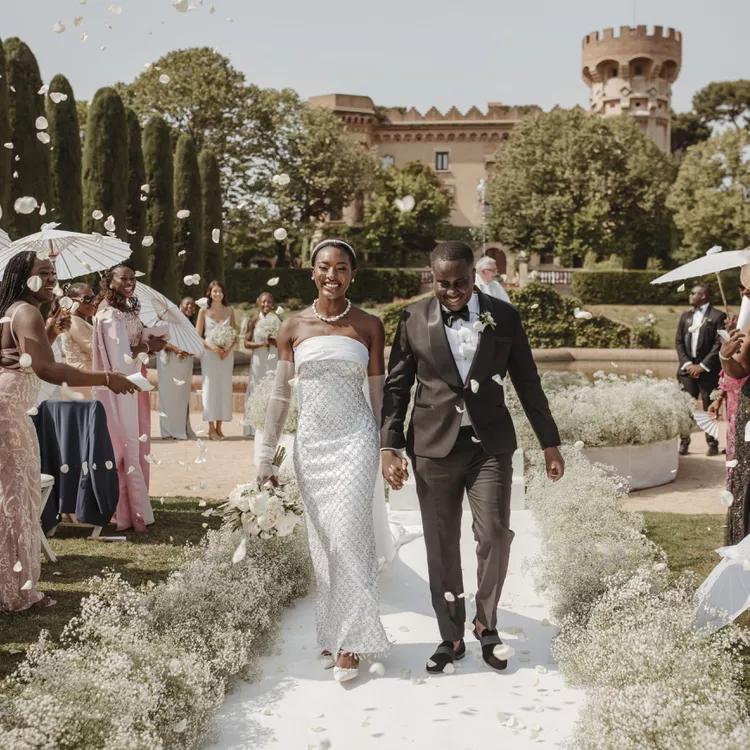 The Most Popular Wedding Dates for 2024
From long weekends to astrological-inspired days, here are some of the most popular dates to consider for a 2024 wedding, according to the experts.
Days With Repeating Numbers
Based on numerology, repeating numbers (or angel numbers) transfer an important message from the universe. Tying the knot on a date that includes a pattern or sequence of numerals is also considered auspicious. In order to bless their marriage with the promise of good fortune, many couples planning a wedding in 2024—especially spiritual ones—will flock to wedding dates with repeating numbers.
Although there are many dates in 2024 that exhibit a sequence, some of the most coveted choices this year will be 2/24/24 and 8/24/24 (which planner Laurie Arons of Laurie Arons Special Events shares with us) because they each fall on a Saturday. Both of these days include the angel number 2424, which symbolizes balance, stability, patience, and determination, all important qualities in a relationship. Plus, the number eight in 8/24/24 signifies authority, confidence, strength, and wisdom, which are all additional traits to welcome into your union.
In addition to angel numbers, long weekends will be a favorable option for couples getting hitched in 2024. If you're throwing a destination wedding with multiple days of events, holiday weekends give your friends and family more time to travel to and from the locale and the ability to immerse themselves in the area. And if your affair is taking place locally, your guests will be more present for the celebration knowing that they'll have an extra day to unwind and prepare for the upcoming week. In either scenario, planner Mala Bakshi of Events by Mala explains that more of your loved ones will be able to attend since they'll have more availability in their schedules.
In 2024, Memorial Day and Labor Day will be some of the most competitive holiday weekends to book for your big day, according to Bakshi. In addition to the extra day, these holidays all take place in the summer, which is one of the most common times of the year to say "I do." Saturdays during these three-day weekends will be the most popular choice because guests will have the ability to recuperate on Sunday or Monday, especially if they work corporate jobs. Since many other couples will be competing for these weekends, make sure to secure your date well in advance. If Saturday isn't available, if you're looking to cut costs, or if most of your guests work in the hospitality or tourism industry (in that case, they'll be required to take off work on Saturday), then consider booking your soirée on Friday or Sunday.
Those interested in astrology will gravitate towards lucky dates in the zodiac for their celebration this year. According to astrological predictions, the summer solstice on June 21, 2024 will be the most popular day to trade vows due to the position of the stars, moon, sun, and planets. On this date, the sun will be in Cancer, which is a romantic sign, and there will be a full moon in Capricorn (full moons are auspicious dates, and the Capricorn season is associated with longevity, endurance, and determination). Plus, Mercury, the planet of communication, and Venus, the planet of love, will be in Cancer. All of the planets will also be pointing upright, indicating a life of fertility and blessings.
Some other astrology-inspired dates that will be a hit in 2024 are March 10 and June 6. Both are new moons, which are considered lucky in the zodiac. The former is a Pisces new moon, which happens once a year, making it a rare occurrence. Since every single planet will be going direct that day, March 10 guarantees that your nuptials will go according to plan. The latter is a new moon in Gemini, which symbolizes a fresh start. On this day, Mercury, the planet of communication; Venus, the planet of love; and Jupiter, the planet of abundance will all be in Gemini, meaning everything will be in sync.
Wedding Dates to Avoid in 2024
Although the above dates will be some of the most popular for 2024, there are a few days that should be off limits. Read on for which ones to avoid for your 2024 nuptials.
Holidays that are nationally recognized (such as Fourth of July, Thanksgiving, and Christmas) aren't the best choices for a wedding, according to Arons. Since most of your guests have annual traditions with their families during these special times of the year, Arons explains that you'll be making your friends choose between your wedding and their family. Not only does this decision put them in a difficult position, but it also means that some of your guests won't be attending, which could affect the overall vibe at your event. If you're saying "I do" at a faraway destination or many of your guests are from out of town, asking them to travel during some of the busiest and most expensive times of the year is also an inconvenience for them. Tying the knot during a major holiday will likewise jack up the price for you. Since many of your vendors won't want to work during these days, they may ask for a higher rate.
Some other holidays you might want to avoid for your big day are Valentine's Day, Easter, Mother's Day, and Father's Day. Most of your guests will have other plans during these smaller celebrations, so hosting your wedding on any of these days will force them to make a tough decision about whether or not to attend. Plus, flowers tend to be more expensive around Valentine's Day and Mother's Day, which will increase your total bill.
For superstitious couples, Friday the 13th is another day you'll want to avoid, according to Bakshi. In Western superstition, this day is considered an unlucky one and is therefore not the best date to ring in your marriage. In 2024, there are two incidents when the 13th of the month falls on a Friday: September 13 and December 13. Since Friday weddings aren't as popular as Saturday weddings, this won't be an issue with most couples. But if you're considering a weekday wedding, steer clear of these two dates to prevent bad luck from potentially plaguing your affair and relationship.
We bring your vision to life with innovative designs, creative production and decor. We go above and beyond to ensure every detail reflects your story.
We travel anywhere your heart desires
Live, dream, travel and create are the foundations to Events by Mala.